Welcome to the Sycamore Class page!
We had a fabulous time at Whipsnade Zoo for our school trip. We loved seeing all the animals and riding on the coach!
We have been using fruit to practise our sharing skills.
We have been having a fantastic time exploring the beebots. Some of us decided to organise races with our friends!
We have been very busy so far this term. We have been learning all about Traditional Tales. We have performed our own Billy Goats Gruff puppet show, made textured Jack and the Beanstalk pictures and much more!
We have also learned all about Chinese New Year. We hung wishes up, made lanterns, tried Chinese food and got to watch Year 1 and 2 perform traditional Chinese dances.
We have all been working very hard on our nativity play, we all had lines to say and learned some songs with Makaton signs.
We have been experimenting with the way we move, using the gym equipment with Mr O'Brien.
We have been thinking and learning all about ourselves at school. When learning about our bodies we enjoyed exploring our sense of smell and taste, and making some moving skeletons! We have also been thinking about our different emotions. We made happy and sad biscuit faces and some yummy fruity faces!
As part of our Transport topic we went on a school trip to Leighton Buzzard Railway. We got to ride on a steam train and see lots of old engines. We had a super time!
We got to meet Mrs Holding's new Guide Dog: Lola. She is so soft and we loved learning about how she learned to be a Guide Dog.
We loved our Teddy Bear's Picnic! We made some honey cakes, honey loop necklaces and made sure that all of our special teddies from home had a name badge.
We had an amazing World Book Day, we had on super costumes to dress up as different book characters. We had Mr Burgess and Mr Wood come down to share a story with us and also had all of Year 5 come to read with us in the afternoon!
We went on a Spring Walk to have a look for the signs of Spring coming.
We have also been working hard on our garden to make sure it is ready for some plants. We have also put out plenty of food for the birds.
This half term we have been learning about lots of different Julia Donaldson stories. We have made witches hats and made a bubbling potion for the witch from Room on the Broom. We have also been exploring the different sounds that the insects from Superworm might make.
After seeing all of our plants frozen over in the cold weather, we decided to have a week about ice. We made ice sculptures and did our own experiment to see which would melt ice the quickest: a hairdryer, gloves or warm water.
As part of our Autumn topic we went for a walk around the school to look for Autumn leaves and twigs. We have also been bringing in conkers from home. We have also spent some time making and baking some Hedgehog Bread.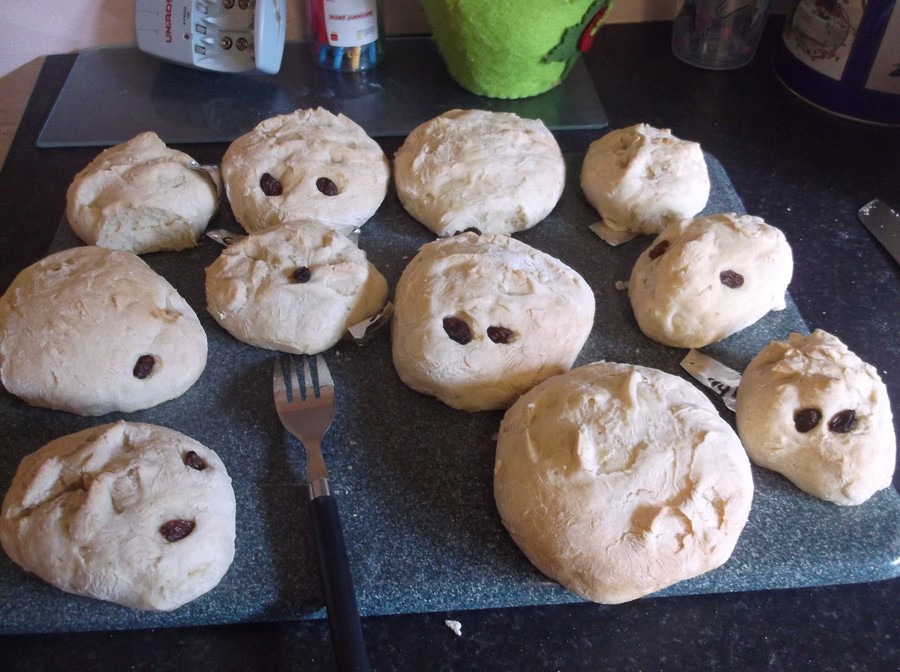 We have had a fantastic start to the year. We have settled in really quickly and have had a lot of fun. We have particularly enjoyed our Dinosaur topic. We even watched some dinosaur eggs hatch!
The Summer Term has seen us learning about all the people who help us, from our mums, to the police, to lollipop people! We have made emergency vehicles, written about the people who help us and made pictures of the various services.
We were over the moon when our new social bikes arrived, and have really enjoyed using them. We are also enjoying then new circular world map rug. A huge thank you to everyone who donated an Easter egg, and bought raffle tickets to raise the money to buy them.
We have, as always, had lots of fun and learning experiences outside. It is great to be able to spend more time outside with the better weather.
We have also had lots of fun learning from our play indoors.
Nursery have been learning lots of new skills in PE.
On VE Day, we learned about how the children of 70 years ago celebrated. We tried their party food, and compared our party food today, to the end of the war, talked about rationing and looked at a months ration of sweets, (about 2 boiled sweets per day). The children were very brave and tried rock cakes, bread and jam, bread and butter, bread and Marmite, and bread and fish paste and squashed fly biscuits(raisin shortbread). There was also lots of jelly. Mrs Poulton's Mum (who was nearly 8 on VE Day) and her Aunt (nearly 18) said there always seemed to be plenty of jelly however short other supplies were. We used newspapers to make hats.
Mr Shortall very kindly volunteered to show us how to do a bug hunt, properly. He showed us how to catch the insects, identified them for us, and brought a moth catcher to see how many moths come into our garden over night, unfortunately on that day there were only 4. We learnt lots about how to collect bugs and were amazed by the variety to be found in the school grounds
Finally, we have really enjoyed being able to use our outdoor areas throughout the summer term. We have enjoyed reading outside, playing with water an boats, and lots of imaginary games. The Nursery children did some great PE games with our javelins. Some of our reception children are getting very confident with letters and words.
This first half term we have been busy thinking about pets and animals, we have made our own pets, learned how to look after pets, and talked about all kinds of animals that live on farms and in the wild in Great Britain. We have really enjoyed having bird feeders in the garden, and we have spotted robins, blackbirds, coal tits, blue tits and sparrows. The children are getting really good at spotting birds! We even had a cheeky squirrel come and visit the feeders.
We have had lots of fun in PE
We have really enjoyed our outside area.
We have been very busy inside too.
We had lots of fun making smoothies today. Cliff from Eden visited the school and we had the chance to try lots of different fruits. We tried pineapple, kiwi, mango and strawberry. Then Cliff showed us how his special bike could make a smoothie. Very impressive! . Our smoothie was made with banana, strawberries, mango and apple juice. Reception children also had natural yoghurt.
As you can see we have started the year as we mean to go on... busy!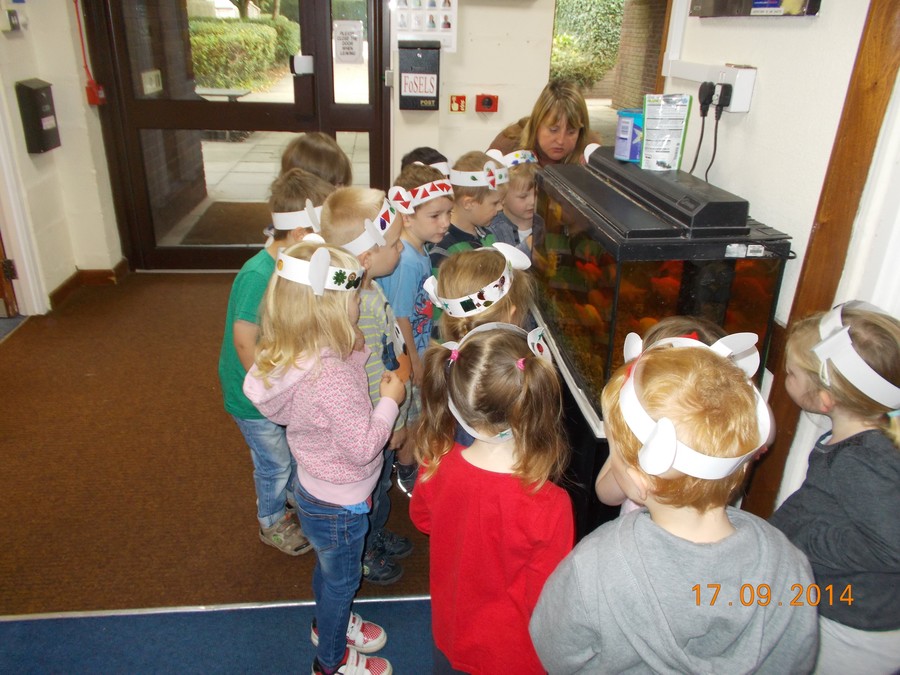 We had a great stay and play session!
Red Nose day saw an array of super heroes and heroines.
We love reading in Sycamore Class.
Summer Term 2014
During the Summer Term we have been thinking about Growing, Our Natural Environment and Mini-beasts.
Thank you to everyone who took part in the Easter Egg raffle, we have bought a lovely new water tray which the children are really enjoying.
A mum came into talk to us about how a baby grows inside a mummy, we learnt lots that day. Thank you.
We have also grown grass seed heads, and planted sunflowers, did you plant yours at home? How much has it grown?
Now that the warmer weather has arrived we have made the most of being outside.
Spring Term
During the Spring Term we have been thinking about Spring, Buildings and What Makes us Healthy.
We've looked at all kinds of buildings, in this country and around the world, we found out what happens in different kinds of buildings, and talked about all the different buildings we visit. We had lots of fun building and playing with castles.
We joined with schools all over the country to celebrate World Book Day by coming to school as our favourite characters from stories. We had lots of fun sharing our stories and talking about our characters.
We celebrated pancake day by making and eating pancakes.
Mrs Holding brought her guide dog Vicky into morning nursery to talk to the children about why she needs Vicky to help her see and move around.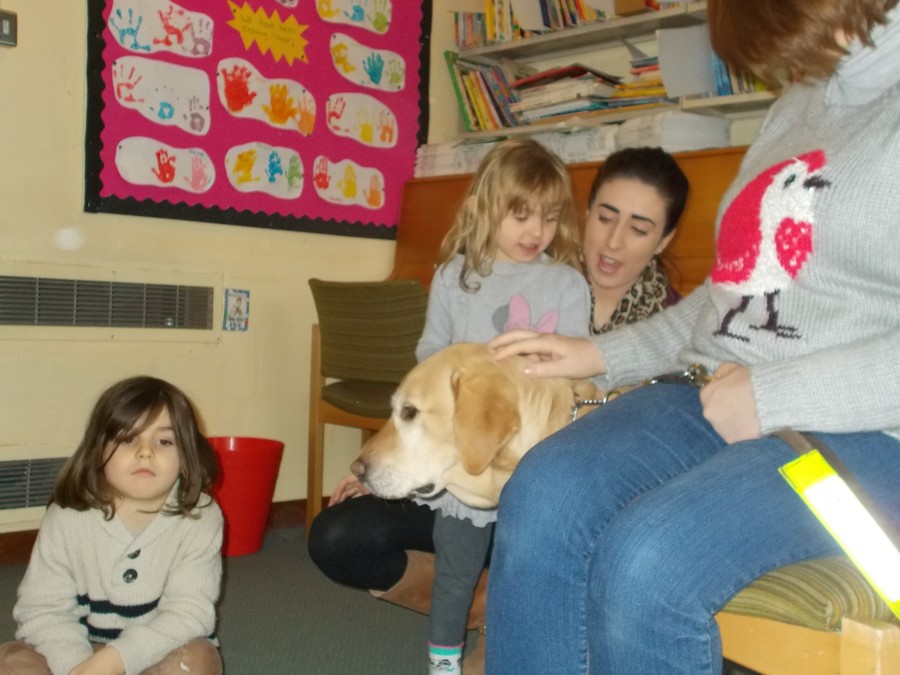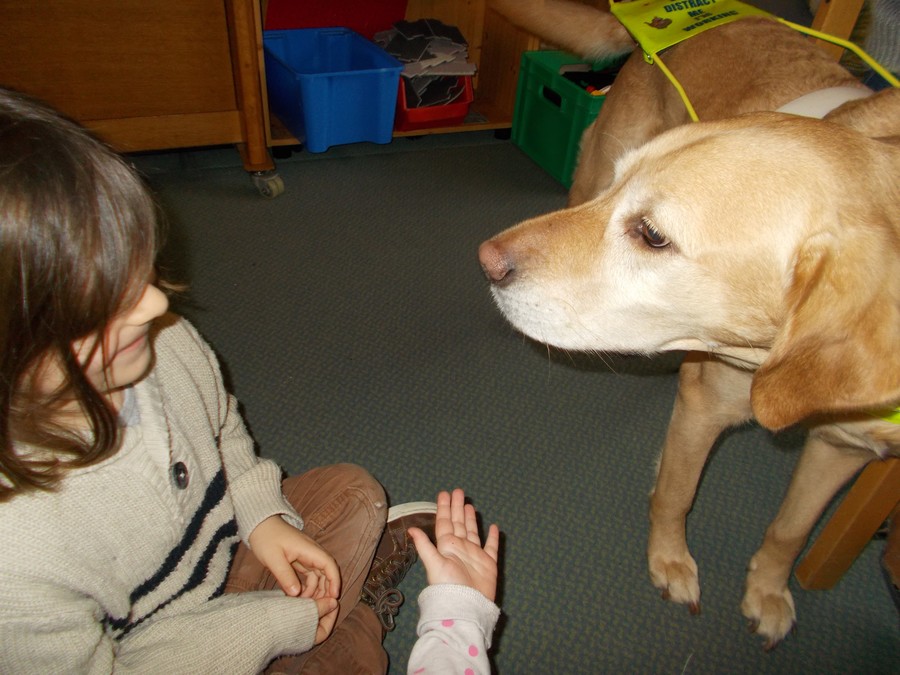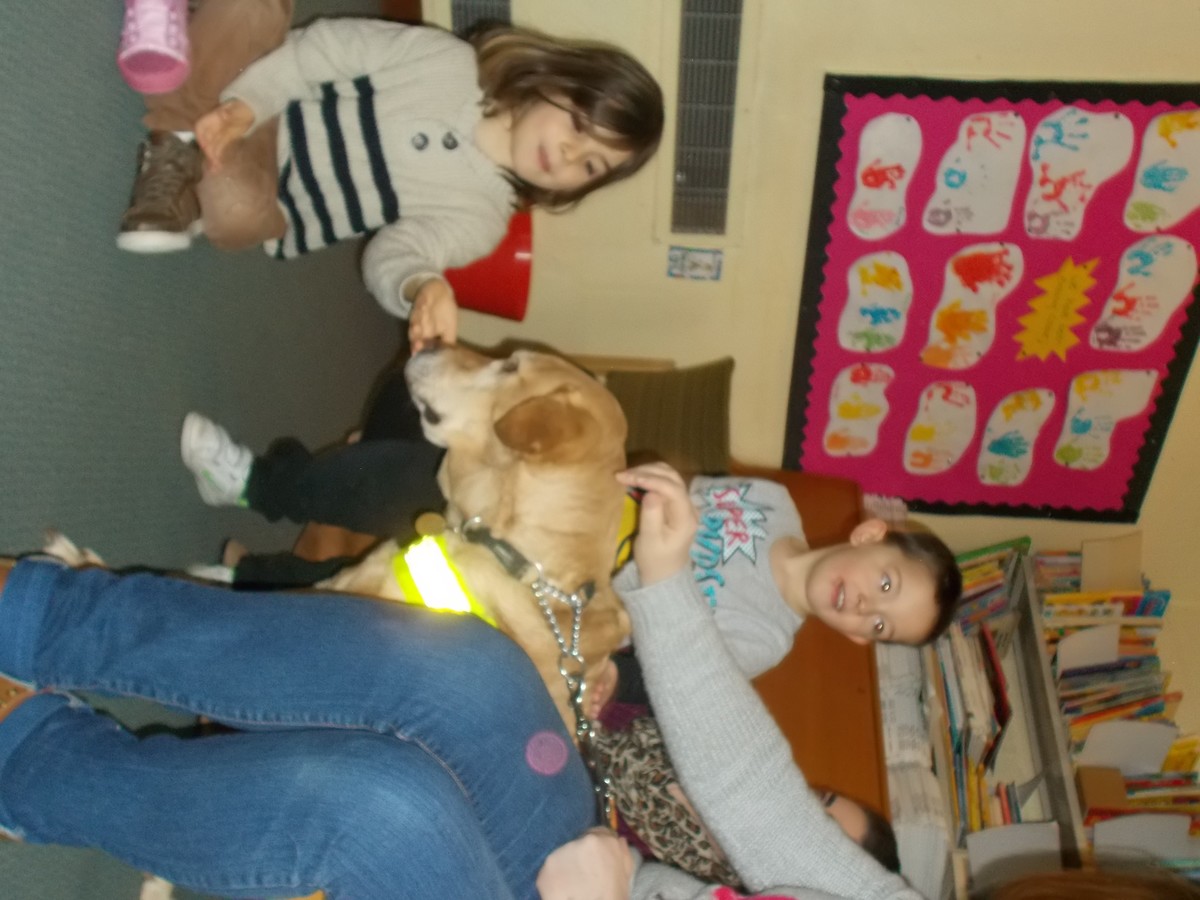 We have really tried to eat healthily and enjoy our snacks of fruit and vegetables and we have been getting very energetic outside.
We went for a walk around the school to look for signs of Spring. We are so lucky to be surrounded by such beautiful grounds.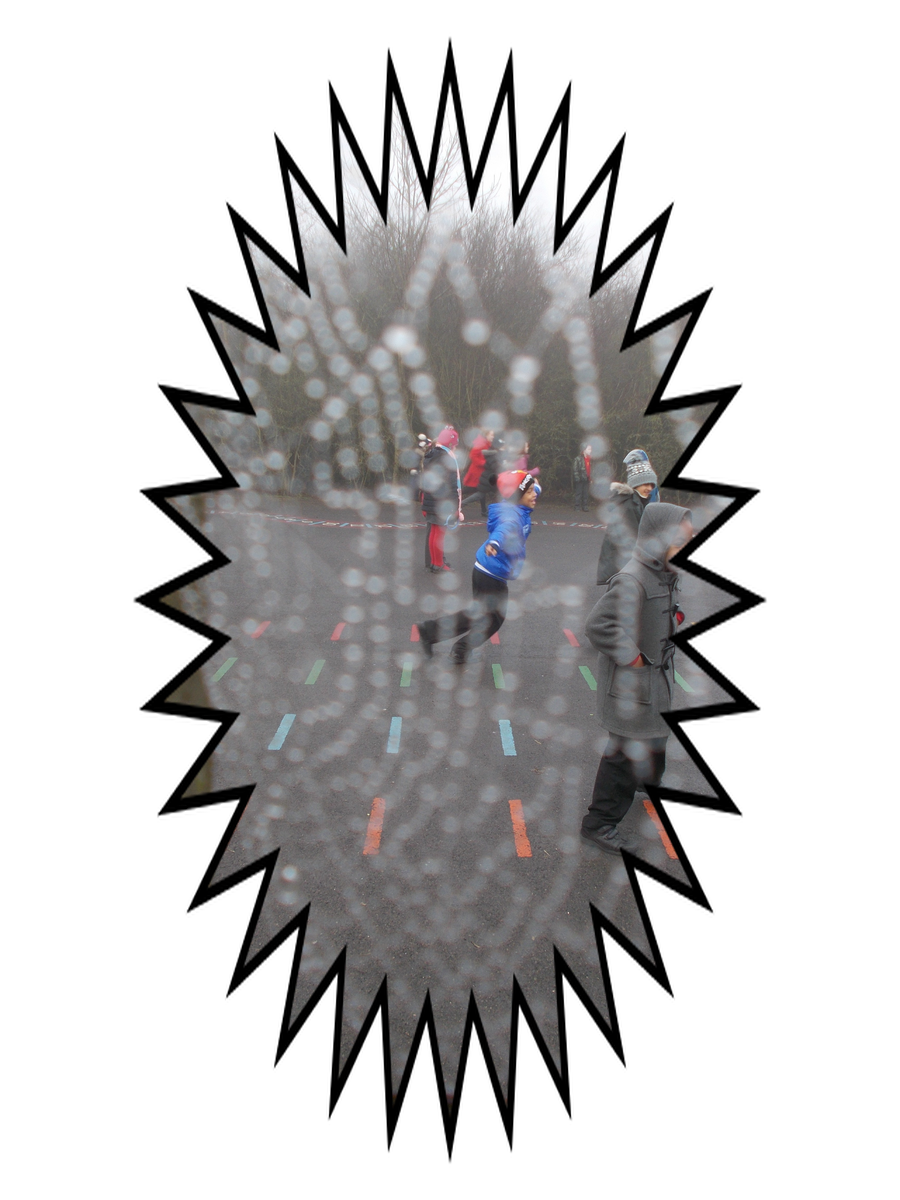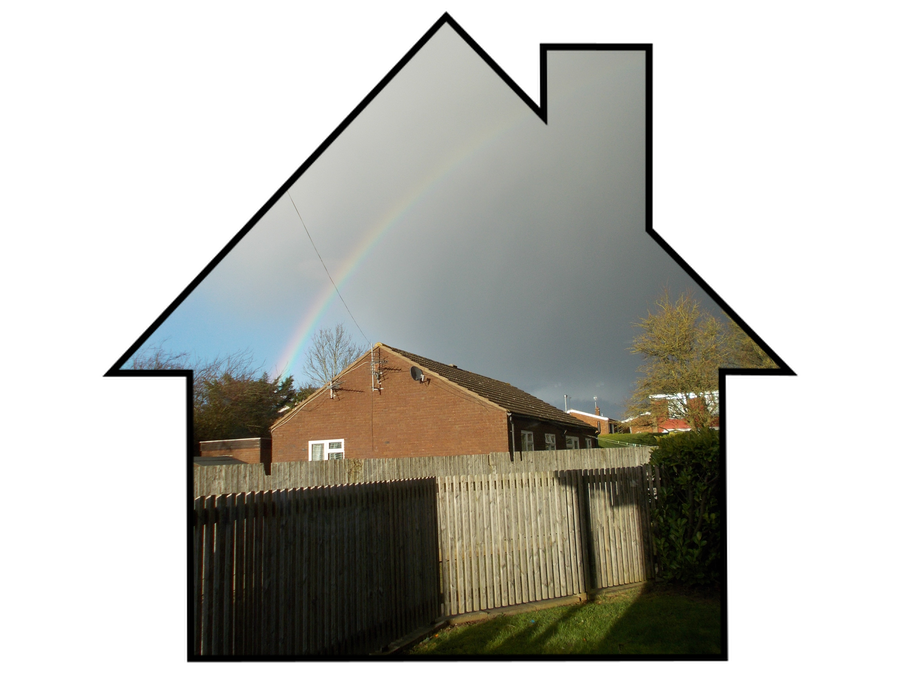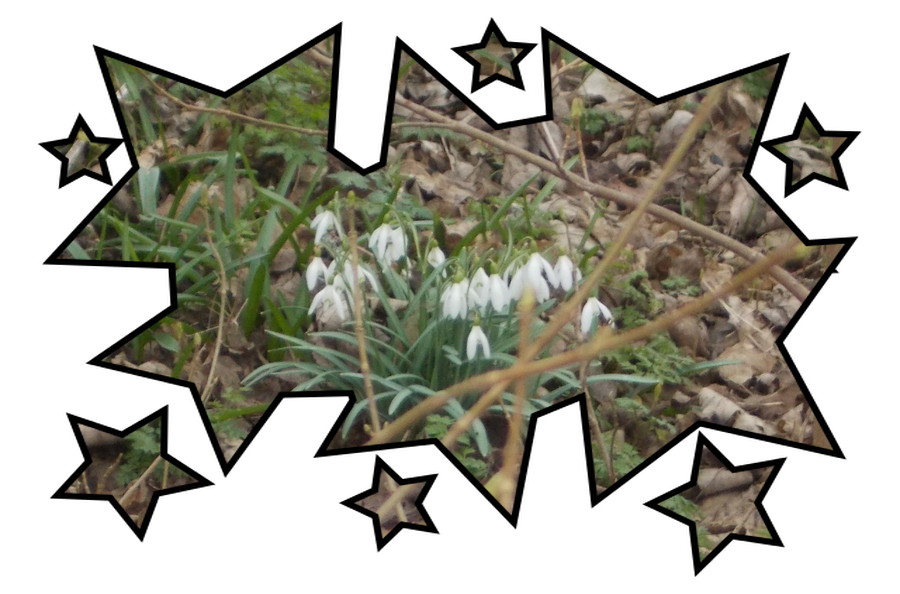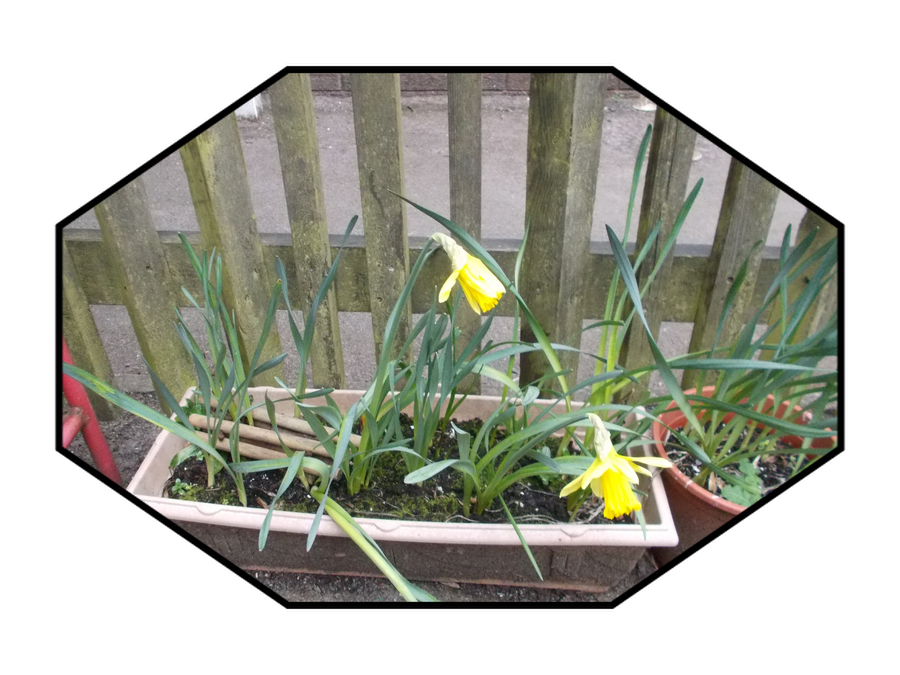 We have had lots of fun learning while we play, taking turns, enjoying books, using the computers, sharing resources, playing with shapes, balancing, climbing and getting along with each other.
Autumn Term part 2
For the second half of the term we have learnt more about Dinosaurs, Autumn, Bonfire Night and Christmas.
The second "Stay and Play" session was a success, and everyone enjoyed visiting the classroom and joining in with their children.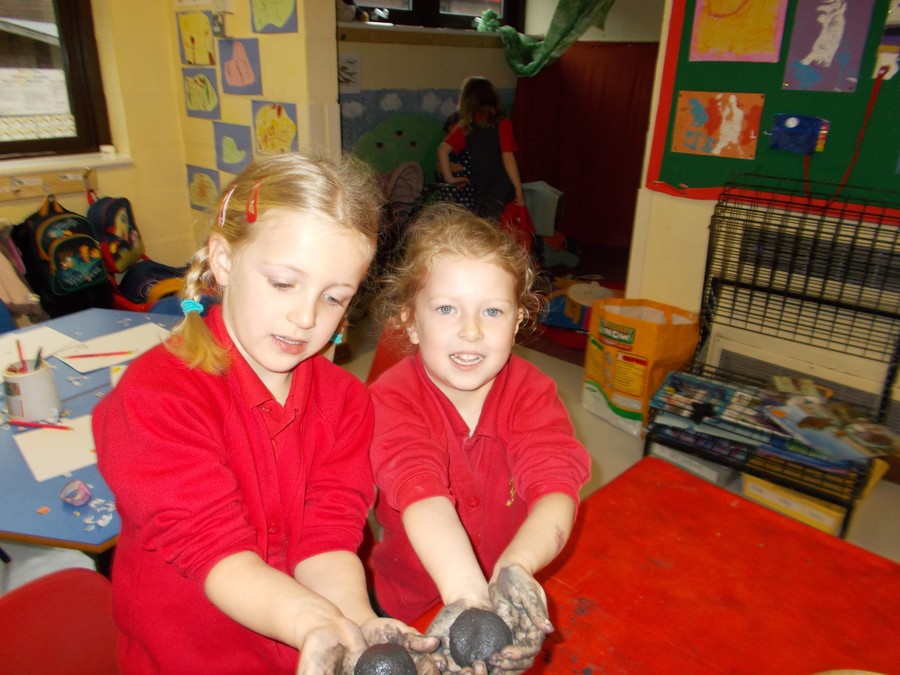 We did lots of research and found out how long different dinosaurs were. We used a metre wheel to measure the lengths on the playground.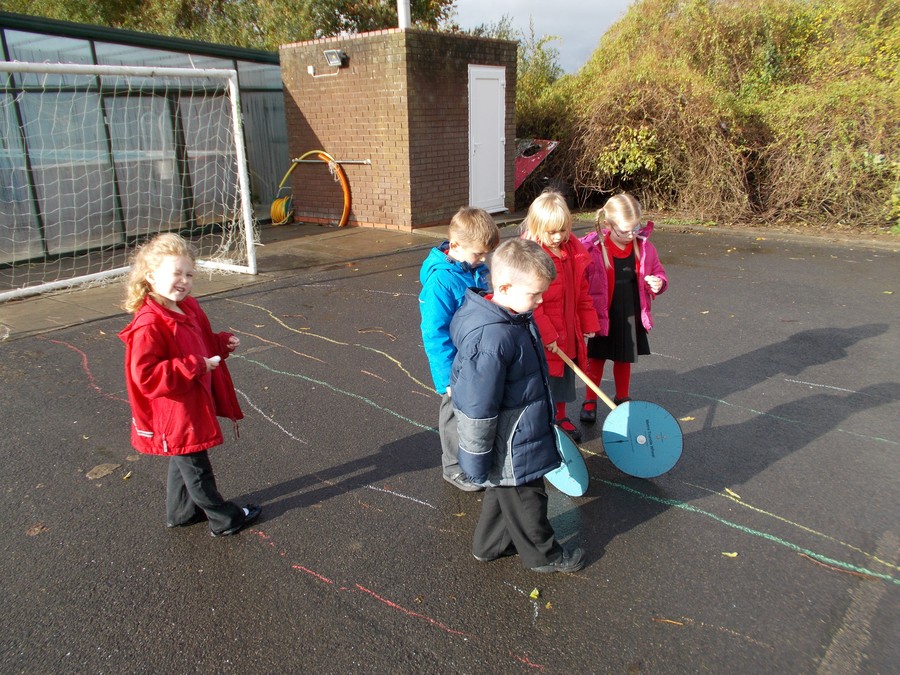 When we had measured the dinosaurs we stood at each dinosaur to see the difference in sizes.... a Diplodocus was as long as the playground, a Velociraptor is about the size of a large dog.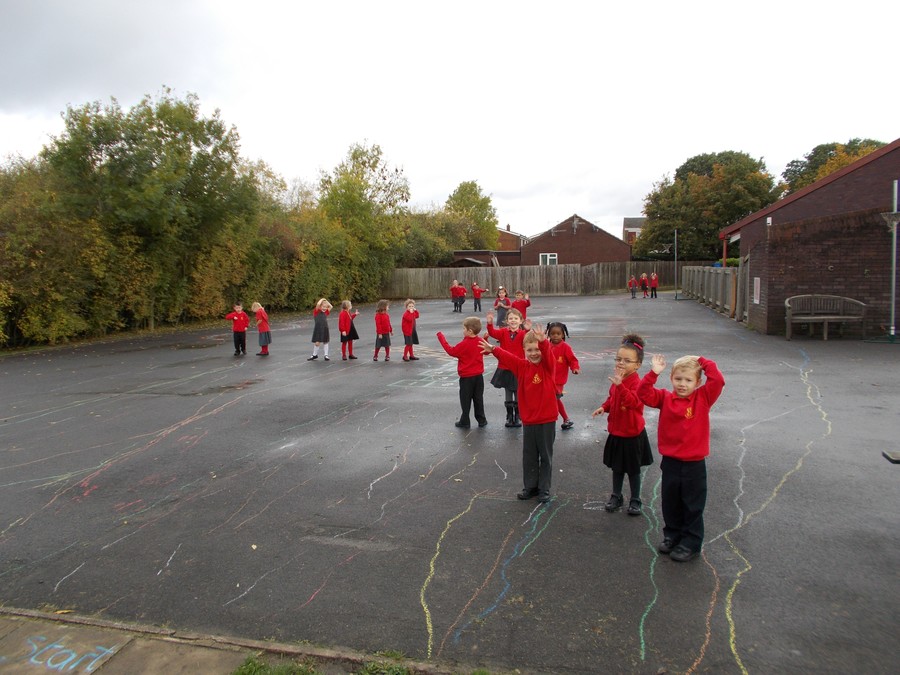 We have been busy doing lots of different activities.
We made Pudsey ears and joined the rest of the school collecting pennies and covering Pudsey's for Children in Need day.
We had lots of fun celebrating Christmas.
We found this little fella in the Early Years playground, so we returned him to the pond area, look how well his skin is camouflaged in his natural habitat.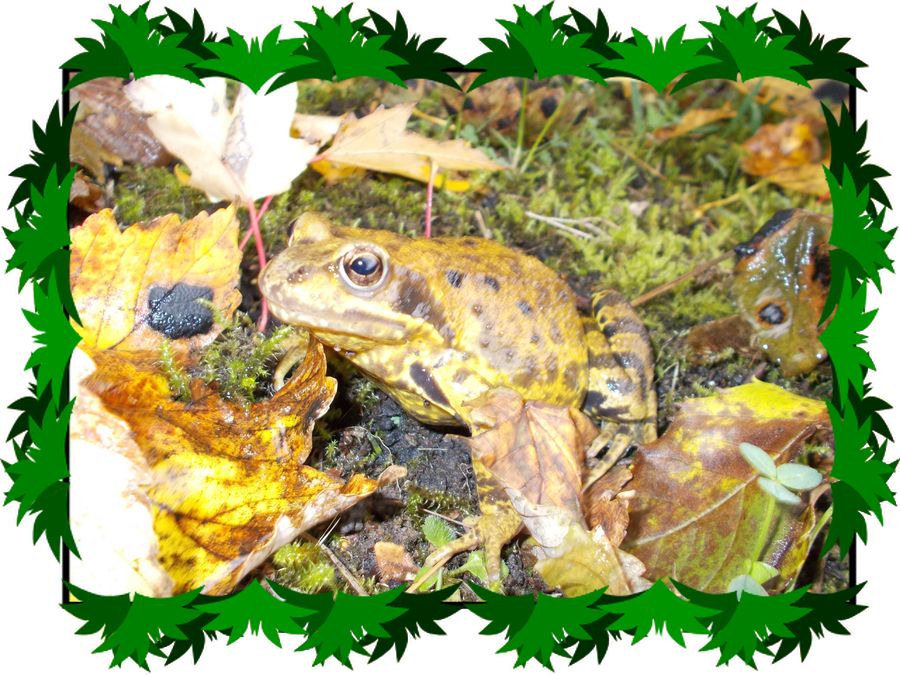 Autumn Term 2013
This term we have been learning about Ourselves, Autumn and Dinosaurs.
One of our children will be celebrating Eid this week and his Mum came into our class to share with us how they will be celebrating. We found out about the special clothes that will be worn, and had a chance to try some on. We looked at Mehndi and all of the beautiful patterns. Some of us even had Mehndi painted on us. We also had some lovely bangles to wear. It was a lovely afternoon and we would like to wish our friends Eid Mubarak.
The Nursery Children have been on an Autumn walk.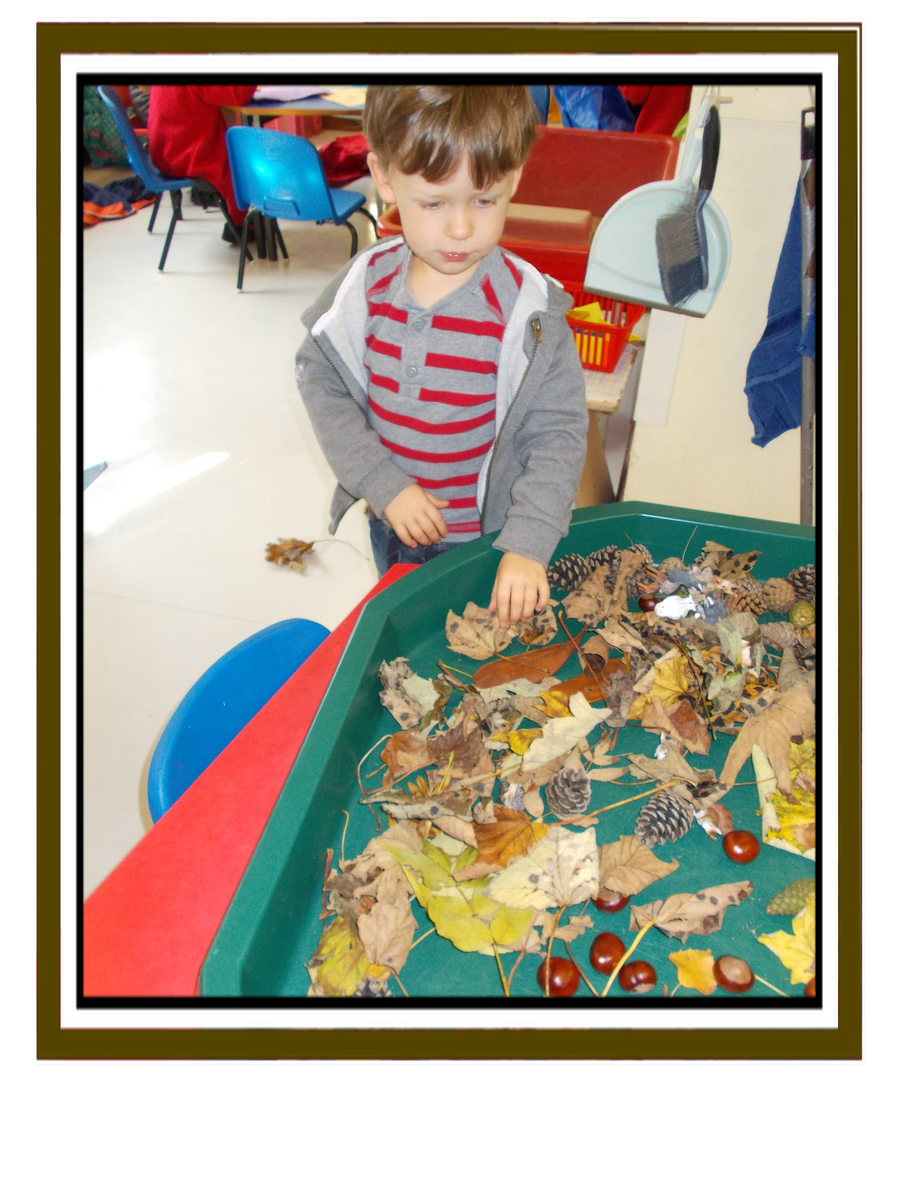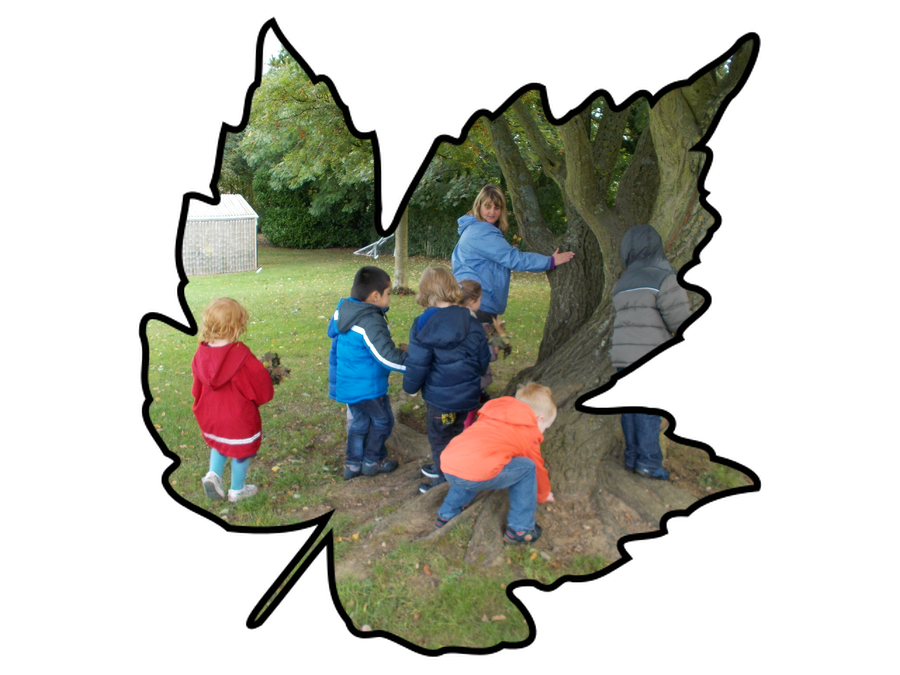 We have enjoyed learning about dinosaurs, making eggs, finding out the names and different kinds, making fossils and pretending to be dinosaurs.